---
Featured Vignette MOCs: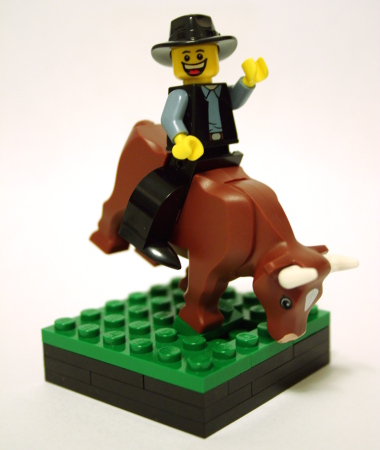 Elroy Davis' Rodeo Rider
View all Past Featured MOCs
---
Top Stories



.vignette Contests



Frequently Asked Questions (Revised!)



View the galleries of vignette builders



The Joe Vig page (Now in Japanese!)



As seen on LUGNET





---
The .vignette curators are Nathan Wells and Nelson Yrizarry



"Think Big, Build Small, Play Well!"

---
Reading Options for lugnet.build.vignette
Subscribe as mailing list
lugnet.build.vignette– Vignettes with LEGO bricks: creations, modeling ideas and techniques, tips & tricks, challenges, etc.

---


Redisplay Messages: All | Compact


Castle at Brickworld 2011

David Gregory

This info has been on classic-castle.com and the Brickworld website for a while, but I figured I ought to post here too, just in case. If this is your first time reading this, and you're thinking, "Aaaah! There's only a couple of weeks left before (...) (3 years ago, 2-Jun-11, to lugnet.events.brickworld, lugnet.build.vignette, lugnet.castle, FTX)

True Blood

Patrick Bégin

True Blood, s01e09, Plaisir d'amour. After Sookie identifies the vampire bartender Longshadow responsible for stealing from Fangtasia, Bill steps in to protect her. In doing so however, he breaks a vampire taboo : killing an other vampire. Even (...) (3 years ago, 8-Jul-10, to lugnet.announce.moc, lugnet.build.vignette, lugnet.loc.ca.qc, lugnet.org.ca.quelug, FTX)

Old Swaybacked Flatcar (No Freeloading!)

Kurt Baty

I am please to bring you: (URL) Old Swaybacked Flatcar (No Freeloading!)> (URL) enjoy kurt (4 years ago, 27-Oct-09, to lugnet.trains, lugnet.announce.moc, lugnet.build.vignette, FTX)

The evil bloodthirsty fly

David Gregory

At the (URL) IndyLUG> August meeting/pool party, we were repeatedly attacked by a hell-spawned giant insect, A.K.A. the very persistent horse fly. I decided to make a vignette of the scene. The fly itself may be just a bit exaggerated in size, but (...) (4 years ago, 15-Aug-09, to lugnet.announce.moc, lugnet.build.vignette, lugnet.org.us.indylug, FTX)